What is adiabatic cooling?
Adiabatic cooling systems function similarly to dry cooling systems, but with the incorporation of pre-cooling pads; running water over pre-cooling pads and drawing air through the pads depresses the ambient dry bulb of the incoming air. The depressed dry bulb allows for greater system heat rejection.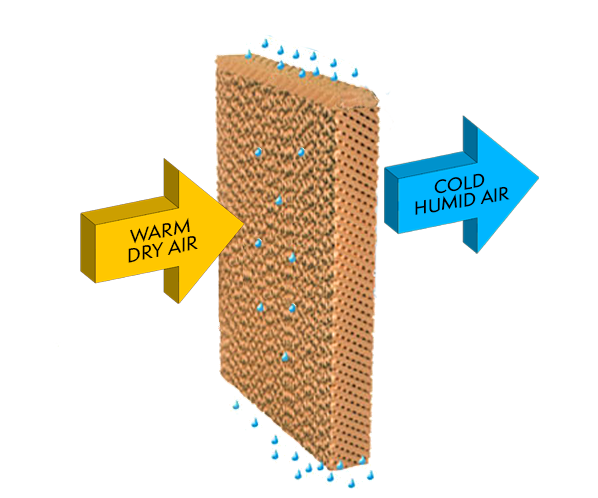 The result of this is that adiabatic systems are highly effective in hot, dry environments, while using less water than traditional evaporative units. Adiabatic units also deliver the required cooling capacity in a smaller footprint and/or lower fan motor horsepower than a completely dry cooler/condenser.
Application in coolers and condensers
The eco-Air Series of dry coolers and condensers represents EVAPCO's newest advancement in thermal heat transfer research and development; the eco-Air Series adiabatic units maximize heat rejection with minimal or no water use, functioning as a dry cooler until unable to reach capacity while running dry. The eco-Air is another chapter in EVAPCO's ongoing commitment to high quality, environmentally friendly products.
V-Coil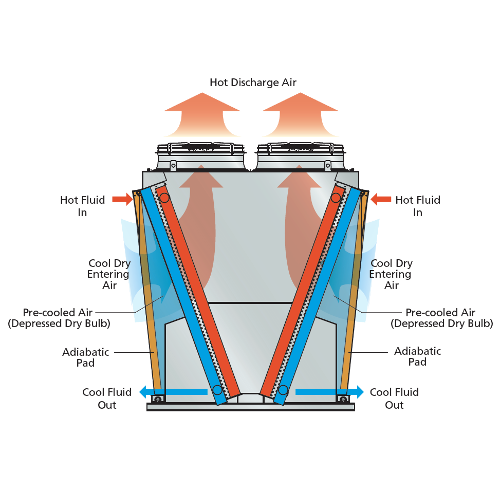 Combining 304L stainless steel coils, aluminum fins, and 100% recycled pre-cooling pads, the V-configuration adiabatic coolers and condensers provide significant cooling capacity in a small box size and low profile. 
Unlike other adiabatic products currently on the market, the EVAPCO eco-Air Series units are 100% fully rated. Every eco-Air unit comes with EVAPCO's exclusive 100% thermal performance guarantee, ensuring peace of mind in selecting the ideal cooling solution for your needs.