"Mr. GoodTower® Replacement Coils for BAC Coolers"
The Mr. GoodTower® Service Team in Pittsburg, PA; Aqua Pure Solutions, replaced the coil sections on two BAC VXI Closed Circuit Coolers. The new Coil Casings featured Evapco's Patented Thermal Pak Design which provides more heat transfer surface area. The casings were constructed of galvanized steel, and the coil bundles were 316 Stainless Steel. The Coil Casing sections fit and function perfectly, and the customer is very satisfied! Another win for Mr. GoodTower!
Before:                                                                            After: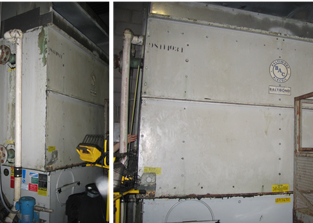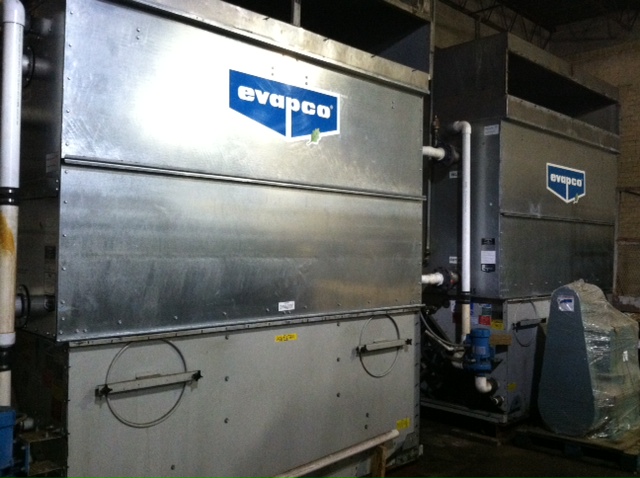 "Belt to Gear Custom Conversion!"
Our Mr. GoodTower® Service Center, Fischer Equipment, Ltd., in New Orleans, performed a very unusual retrofit to a couple of Evapco Cooling Towers. Their customer wanted to convert the traditional Belt Driven units, to Gear Driven units. This required a very custom design and required specialized mechanics and equipment to complete. 
The customer also wanted to add OSHA Certified Platforms to the tower for access to the fan section for maintenance. The Mr. GoodTower® Team at Evapco provided custom parts for all elements of the retrofit.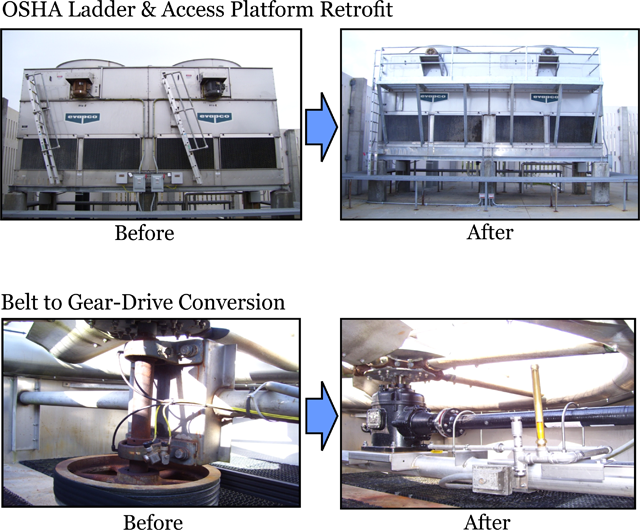 "When the Customer Wants it" - An Evapco Parts Success Story
A frantic customer called the Evapco Corporate Office in MD on a Saturday and the call rolled over to the 24-hour emergency service line. The customer needed six sets of fan bearings for ATC units installed on a project in Romania. He needed the bearings that day – because he had a crew of workers flying to Romania that night and they wanted to take the bearings with them.
An Evapco employee drove from his home to the plant to locate and box up the bearings. A courier service was called and then delivered the parts to the customer within five hours of the original Saturday phone call – and they made the flight bound to Romania that night with bearings in hand.
How do you think the customer feels about their Evapco experience?  "The parts were delivered a few minutes ago. I would like to personally thank you for your efforts. This tells me a lot about Evapco as a company and what they stand for. I am in the process of building three more cold storage facilities in Romania. Based on my experience with your company today, I will insist to have Evapco supply our condensers."