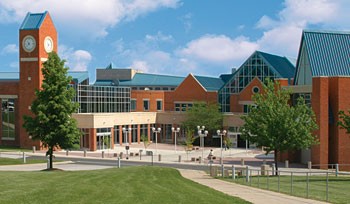 At EVAPCO, we believe that every student deserves the chance to receive a great education. We also believe that investing in local colleges and local students is a worthwhile investment in our community's future. This is why, for over seven years, EVAPCO has partnered with the Carroll Community College Foundation to help local students receive a great education from a great local institution. 
The EVAPCO Scholarship Fund was started in 2007 with the intention of providing financial assistance to deserving students. Every academic year, the EVAPCO Scholarship Fund awards four students in good academic standing with a $1,000 scholarship. Along with the EVAPCO Scholarship Fund awards, EVAPCO funds the Ben Sochrin/EVAPCO Memorial Scholarship Fund. This $1,000 award is given in memory of Ben Sochrin, an EVAPCO employee and Carroll Community College student who was killed in a motorcycle accident in 2008. With these two funds, EVAPCO gives a total of $5,000 in scholarships to Carroll Community College students each year. EVAPCO is proud to continue the very successful partnership with Carroll Community College and pleased to help make a difference in the lives of their students.
Good luck to all the students starting classes on Monday!